Vol. XIII, Week 14
Apr 10, 2023

Purina Winners
[caption id="attachment_11099" align="alignright" width="300"]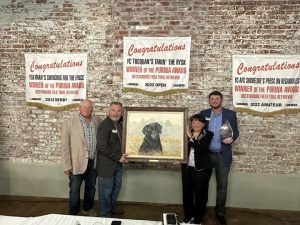 High Point Open winner FC Tucquan's Takin' the Rysk owned by Tom & Theresa Ford and handled by Alan Pleasant and Hunter Street, both of Black River Retrievers.[/caption]
Congratulations to the three winners -- their owners and handlers -- of the various Purina High Point Awards. Winners were celebrated at a dinner hosted by Purina held in conjunction with a free seminar featuring Kenny Trott (Horsetooth Retriever Kennels) and Hunter Street (Black River Retrievers) and the Lone Star Retriever Club Field Trial.
Purina High Point Open Dog - FC Tucquan's Takin' the Rysk, owned by Tom & Theresa Ford, handled by Alan Pleasant and Hunter Street (Black River Retrievers) -- 32 Open points
Purina High Point Amateur Dog - FC-AFC Shoreline's Press on Regardless, owned and handled by Linda Berkeley-Weiss -- 25.5 Amateur points
Purina High Point Derby Dog - YSK Miah's Swinging for the Fence, owned by Wes Strahler and handled by Caleb Brown (Tall Oak Retrievers) -- 56 Derby points
[caption id="attachment_11115" align="aligncenter" width="300"]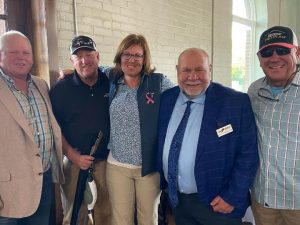 (l-r) Alan Pleasant (Black River Retrievers), Kenny Trott (Horsetooth Retriever Kennel), Marcy Wright (Horsetooth Retriever Kennel), David Carrington (Avery Outdoors), Danny Farmer (Vinwood Retrievers)[/caption]

HEALTH
Texas A&M Tests Nonsurgical Treatment For Disc Herniation
Researchers at Texas A&M's School of Veterinary Medicine & Biomedical Sciences (VMBS) have started testing a nonsurgical treatment for disc herniation in dogs, AAHA NEWStat reported. The treatment mirrors a nonsurgical treatment for humans developed by doctors in Japan.
In dogs, disc herniation can lead to hind limb paralysis and incontinence. Surgical intervention is the standard method of treatment, but it is costly and can be inaccessible to some pet owners.
In September 2022, Dr. Nicholas Jeffery of Texas A&M launched a clinical trial to test the treatment on 30 small dogs under the auspices of the VMBS Office of Veterinary Clinical Investigation (OVCI). The treatment involves injecting an enzyme into the affected disc to dissolve and digest ruined tissue. The patented enzyme has been approved for use in humans in Japan and is expected to be approved for use in humans in the U.S.
The first dog involved in the trial was a five-year-old dachshund named Oscar. Although the enzyme digested Oscar's herniated disc in a matter of hours, it took about three weeks for his spinal cord to recover enough for him to walk again—roughly the time it would have taken after surgery. 
"I've been really pleased with the outcome so far," said Jeffery. "Partly because the dogs have been doing well and partly because they just look so happy afterwards. It's such a benign procedure to put needles into the spine compared to doing surgery, and the recovery is very quick." 
Worms?
From Bradshaw-Sporting Dog Veterinarian
One major issue we've seen here lately with the heavy use of ProHeart and other heartworm prevention is the sneaky return of common intestinal parasites such as roundworms, hookworms, and whipworms.
Make sure not to forget to have your veterinarian perform a fecal egg count or intestinal worm screen on a yearly basis to make sure parasites aren't bringing your pup down. In young transition and middle age dogs, these parasites often live at a low level in the gut and have the potential to cause intermittent diarrhea and vomiting.
Food is often blamed for the intermittent diarrhea and vomiting, but often times, it's a parasite problem.
These parasites don't allow your dog(s) to perform at their peak. There are multiple ways to detect these parasites, but due to the fact that you can't always find evidence on a fecal evaluation due to intermittent shedding, at times we recommend more in depth ways to detect.
Be sure to check with your veterinarian as these parasites have the ability to greatly affect the health and performance of your canine athlete.

[caption id="attachment_11116" align="aligncenter" width="300"]
Thank you Eric Fangsrud (Mission Mountain Retrievers) for believing in your Amateurs. Your coaching, patience, encouragement and uncanny ability with our dogs is something to celebrate![/caption]


---