Vol. XIII, Week 5
Feb 6, 2023

2023 Master National Judges
Congratulations to the judges panel for the 2023 Master National to be held October 26-November 5 in Thomasville, Georgia.
Region 1

Barry Frey (Delaware)
Tom McKenzie (South Carolina)
Karl Blackwell (North Carolina)
Sally Kopeke (Ohio)

Region 2

Lin Gelbmann (Minnesota)
Mark Edwards (Mississippi)
Laura Foster (Iowa)
Wilson Lejeune, Jr. (Louisiana)

Region 3

Kevin Buchman (Texas)
Lee Whittaker (Utah)
Dorothy Ruehman (Texas)
Robert McDow (Oklahoma)

Region 4

John Kinnard (Washington)
Janet Wood (California)
Terrie Sato (Washington)

Laura Judd (California)

Milk-bone Anyone?
From the National Purebred Dog Day FB Page
The original Milk-Bone® dog snack was created in 1908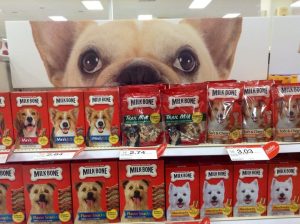 by the F.H Bennett Biscuit Company at a bakery in the Lower East Side of New York City. The biscuits were originally called "Maltoid" and was advertised as a supplemental dog biscuit made from wheat, vegetables, meat and wheat germ with added vitamins and minerals.
The company was in direct competition with the original dog biscuit:"Spratts Patent Meat Fibrine Dog Cakes." The idea of producing the dog biscuits in the shape of dog bones, however was entirely F.H. Bennett's and it pushed the biscuits far ahead of the competition. Around 1920, the company made its 5th ingredient cow's milk and the name of the product was changed to "Milk-Bone."
In 1931, the F.H. Bennett Company was purchased by the National Biscuit Company – or Nabisco. Nabisco advertised Milk Bones as "a dog's dessert." The marketing focus then shifted from Milk-Bone being merely a dog treat to a product that promoted cleaner teeth and better breath. Nabisco, under the ownership of Kraft Foods, sold the Milk-Bone rights over to Del Monte Foods in May 2006. The biscuits are now made exclusively in Buffalo, New York.


Week 05
This week's newsletter includes results from:
Bourbon Hills Retriever Club of Kentucky (BHRCKY) -
see full results
Marin Retriever Club (MarinRC) -
see full results

---